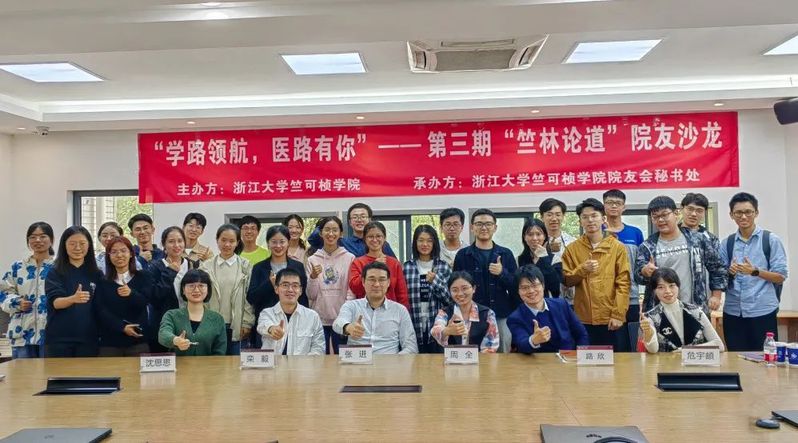 On the afternoon of 19th October,the third Alumni Seminar on the theme of "Suggestions and communications as navigation on medical sciences learning " was held in Zijingang Campus. Four alumnus, Zhang Jin, Luan Yi, Shen Sisi and Zhou Quan, and , Vice President of CKC., Mr. Lu Xin had been invited to share their opinions. The activity aimed to provide opportunities for communication about thoughts, academics and life guidance.
First, Professor Zhang Jin put forward practical application in academic research, managing to realize research and achievement transformation basing on basic disciplines and combining with innovative technologies in academic exploration . Based on his own experience, he emphasized that it is important for scholars to keep enthusiasm and stay focused during research and exploration. In the process of in-depth research, scholars always need partners for achieving progresses, which means that, Tutors and students are no longer separate individuals, but as pathfinders to impact the frontier field.
Luan Yi, another alumnus of CKC, who graduated from Badenian Medical Class, was also invited to the ceremony. He insisted that, students should not only live the moment, but also think and prepare for the future. More importantly, due to the fact that medical is a people oriented profession, he strongly commanded that students should learn to communicate with others properly.
Later,Zhou Quan , who was also well-equipped by the special training mode of Badenian Medical Class ,shared her opinions on interdisciplinary research. She compared it to the transformation of "urban road "and"highway".
At last ,the communication and interaction part, witnessed Shen Si si together with three other alumni having a dialogue with our students.
After all the agendas, the activity came to an end , but it had impressed everybody. It's believed that attenders would be affected deeply in the near future.